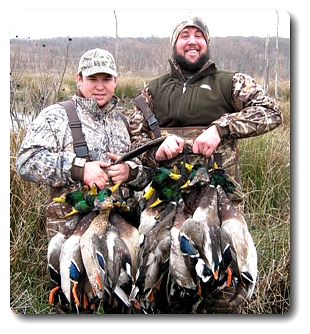 What species of waterfowl do we take?
We target Mallards and Giant honkers!!! We will also typically see wigeon, pintail, teal, and gadwall on our duck hunts. On goose hunts we'll also see lesser canadas, snows, and specklebelly geese. If a certain species is desired we will do our best to accommodate your request. Our late season birds are as pretty as they get, so if looking to mount a bird you've come to the right place!!!
What type of terrain?
Our Waterfowl hunting areas consist of rivers, watershed lakes, ponds, dry fields. We keep leases all across Oklahoma giving us access to some of the best ground in the state.
What kind of success should be expected?
We have averaged about 5 ducks per hunter/per hunt for the last several years. We do have occasional hunts that due to weather changes or birds that don't cooperate aren't as successful. We are chasing migratory birds that are unpredictable, but we are proud of our ability to consistently provide clients with full straps and memories they'll never forget.
Where do you hunt?
Our leases are located all over the state to ensure quality hunting no matter what conditions we're faced with. To give a short answer we hunt where the birds are.
We will confirm location with you leading up to your hunt. We have a variety of leases in a variety of locations. This is one of our keys to success!!!